School Production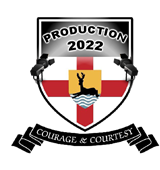 The KTS Production this year is Beauty and the Beast. Staff and students are working hard to ensure that we can safely open the doors from Tuesday 8th February – Friday 11th February.
The box office will open on Wednesday 19th of January.
You can request tickets by emailing dramaboxoffice@kts.school.
Payment can be made via Wisepay or with cash.
Ticket Prices
£8 adult
£5 concession (child/OAP)
£21 family ticket (2 adults and 2 children)
Ensuring we are Covid Safe
We are organising performances slightly differently this year. This includes offering some performances with spaced seating. Please check the details below before contacting the box office.
Production 2022 Performance Details
Tuesday 8th February, 7pm: Spaced seating for all audience members
Wednesday 9th February, 7pm: Spaced seating for all audience members
Thursday 10th February, 7pm: Standard seating for all audience members
Friday 11th February, 7pm: Standard seating for all audience members


Enjoying a Covid Safe Performance
The hall will be well ventilated
We ask all audience members to do a lateral flow test before attending
We ask all adults and children in Year 7 and above to wear a face
covering at all times when indoors, unless exempt
Refreshments will be available for consumption in the canteen area only
The canteen courtyard will be open for audience members during the interval
(In the event that you unfortunately cannot attend due to a covid related absence, please let us know. We will refund the cost of your ticket. We will also be able to offer your ticket to someone else. Thank you)
The Knights Templar School's
Production of Disney
BEAUTY AND THE BEAST
Music by

Alan Menken

Lyrics by

Howard Ashman & Tim Rice

Book by

Linda Woolverton
Originally Directed by Robert Jess Roth
Originally Produced by Disney Theatrical Productions
This amateur production is presented by arrangement with
Music Theatre International (Europe)
All authorised performance materials are also supplied by MTI Europe
www.mtishows.co.uk
About KTS Productions
The annual school production at KTS is a great opportunity for so many of our students to work together to create something exciting.
Students are responsible for many elements of the production – performance, design, technical and front of house.
Production projects begin with auditions in the June/July of each academic year. The cast is then selected, and parts allocated before the end of the term in readiness for the next academic year's production. We then run a second round of auditions in September for our new Year 7 students.
Rehearsals begin in September and will run until performance week in February. Along the way we recruit many more students to support the design and technical elements of performance.
A significant event in the school calendar, the production is always a memorable part of the year for those involved. Students get to develop their skills, grow their confidence, make new friends and share their work very publicly.
I have been involved in the production almost every year since being here and it is honestly the highlight of every year. Doing the shows has made me a much more confident person and I have built friendships which I will have forever.'

- Izzy
I've been doing school productions since year 8 and every year is different, it gives you an opportunity to socialise with different year groups and you make new friends. This year has been especially stressful, learning all the songs and dances but it's been the best! I've had an amazing time working with lots of different people.

-Kirsty-Anne
At first the large scale of the performance can frighten some people away from getting involved, but if you have the chance then you'd be making a mistake not going for a role in any of the school's productions in the future.

- Alex
Want to get involved?
For students... Listen for notices and announcements in the summer term if you would like to get involved in the next production in any way at all. Alternatively, you can express your interest to Mrs Spurling.
For the community... If you feel you have a skill or resource you would like to contribute to the next school production, we would love to hear from you.
Please email Mrs Brewer.
Previous Productions
2020 – FAME by Fernandez, Levy and Margoshes
2019 – The Government Inspector by Nikolai Gogol, adapted by David Harrower
2018 – The Wizard of Oz by L.Frank Baum, adapted by Frank Gabrielson
2017 – The Wind in the Willows by Kenneth Grahame, adapted for stage by Alan Bennett
2016 – Fiddler on the Roof
2015 – The Crucible
2014 – The Sound of Music
2012 – Nicholas Nickleby
2011 – Sweet Charity
2010 – The Comedy of Errors